We want Queenslanders to have, what most countries




on this planet have - no artificial water fluoridation.
The Queensland State Government may be in breach of sections


204 & 240 of the Queensland Criminal Code – 1899, 


by deliberately adding of the toxic heavy metals & poisons,
fluorides, in any quantity, into drinking water.

WATER FLUORIDATION IN QUEENSLAND IS ILLEGAL 
We suspect that any private citizen, company, corporation
(which includes Queensland Government, now registered as a corporation

*

*

),
or terrorist, would be expected to face the full force
of the law for such a criminal act as fluoridation.
Note: 
The people of Queensland were not consulted, fully informed and 
no referendum was held on the matter of water fluoridation.


 The State of Queensland Australia is
registered with the US Securities and Exchange
Commissions under No. 0001244818 :
On the 15 July 2002, The Corporations (Q) Act 1990 (Q) Reprint No 3 created in

Qld. a Corporate Government. The State of Queensland Australia is registered
with the US Securities and Exchange Commissions
under

No. 0001244818.

This is NOT about fluoride, but has legal
implication for manditory fluoridation ↓

The $4 billion NIS  Class Action ($500 NIS for each Israeli
citizen),
accuses "Mekorot" of providing the Israeli
citizens with false
information regarding their
drinking water content and causing
environmental damage for
the past 10 years.

A damning critique and analysis of the NHMRC's 2017
"Sham" review of water fluoridation and 
an appeal for a Royal Commission Inquiry:


Some say this is the worst pollution in Australia's history – on 70 sites, but
the Australian media, except 

ABC TV  'Four Corners'

 are ignoring it !
 

The

 "Protected Pollutant"

 Fluoride is NOT mentioned by name

!
We have not finished with this, – many long term legal battles yet to come.


7  OCTOBER 2015 Mosaic Fertilizer was fined $2 BILLION


Mosaic Fertilizer

,  one of the largest sellers of

"fluorosilicic acid" that cities add to
public drinking water [USA].
It is described by EPA  a "hazardous waste."
 The chemical used in Australia contains the same contaminants.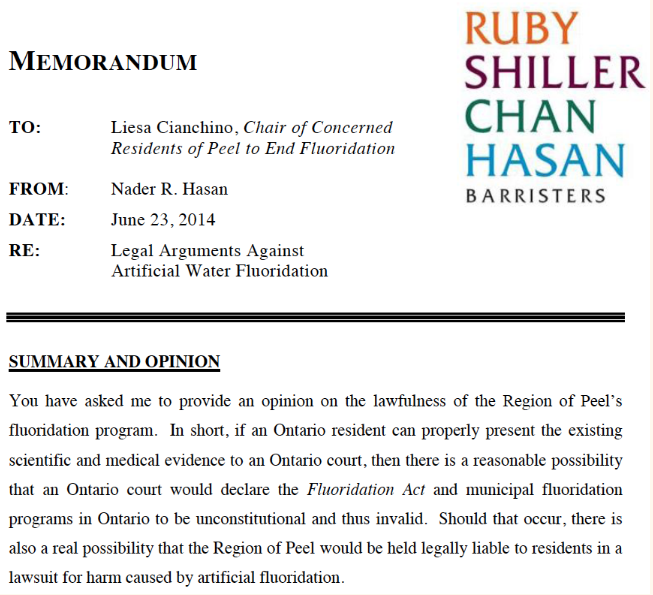 MEMORANDUM TO:
Liesa Cianchino, Chair of Concerned Residents of
Peel – to End Fluoridation
FROM: Nader R. Hasan – DATE: June 23, 2014
You have asked me to provide an opinion on the lawfulness of the Region of Peel's fluoridation program. In short, if an Ontario resident can properly present the existing scientific and medical evidence to an Ontario court, then there is a reasonable possibility that an Ontario court would declare the Fluoridation Act and municipal fluoridation programs in Ontario to be unconstitutional and thus invalid.   

Read on






 Credit to:
Douglas Cross, BSc,CBiol,EurProBiol,FSB


Utah questions toxic fluoridation. The state has just come to realize that it is getting many extra toxins – tramp contaminants – at no extra charge, along with its monthly medicinal poisonings from fluoride. Utah is becoming the first state to question the criminally stupid absurdity of paying chemical companies to dump toxic waste into its drinking water.
→
MORE


In 1992, "Americans spent more than $700 million on inhome filters"




and more than $2 billion on bottled water in efforts to




avoid drinking contaminated wate

r.

Volume 14, Number 2 Summer 1997
Copyright © 1997 by Pace University School of Law All rights reserved
reprinted here with permission
Fluoridation of Public Water Systems:
Valid Exercise of State Police Power or Constitutional Violation?




The Protocol For The Prohibition Of  The Use In War
Of Asphyxiating Poisonous Or Other Gases, And
Of Bacteriological Methods Of Warfare.
Was Signed at Geneva: 17 June 1925
See  ⇒
Sarin in Syria


⇓ The Longest Court Case in Scottish History ⇓


…Justice Yetka believed that the state's intrusion was
neither reasonable nor the least intrusive method
to provide the alleged public health benefit….
Links to Rita's site →
HERE


"Like all nostrums, fluoridation will soon pass away.
In 50 years from now it will be known as the
greatest hoax in medical history."
Judge R.C. Tarter.  – [ The 50 years are nearly up! ]



Full text →

   

HERE

"When you see that in order to produce, you need to obtain permission from men who produce nothing and when you see that money is flowing to those who deal, not in goods, but in 

favours

 and when you see that these men get richer by graft and by their pull – not by their work.  When your laws don't protect you against them, but protect them against you and when you see corruption being rewarded and honesty becoming a self-sacrifice… 
You may now know that your society is doomed." 
– 

Ayn Rand


The Queensland State Government may be in breach of sections of:

This is NOT about fluoride but has legal 
implication for fluoridation:



Hydrofluoric Acid aka Hydrogen Fluoride
Dr. Richard Sauerheber & James Robert Deal
 Hydrogen Fluoride more information  →  

HERE